So I am trying to force everyone one NightHawk (My Group at work) to make a blog. . . and by force I mean tell them over and over that only cool kids blog.
So everyone was looking through their old journals and blogs, and I found one of mine from like 2004/2005. Not going to post a link cause it is one of those "Private" online journals. But I did find a link from 2005 that makes me happy
http://www.badgerbadgerbadger.com/
This link makes me giggle like a school girl. . .lol. . . can't believe that it is still up.
If anyone out there reads this, please click on the link and prepare to laugh!
**NOTE: The less sleep that you get, the funnier it is!
And some random Soap cookies that I made a long time ago :)
I know that can't stay interested in a blog without pics, so I'm adding one!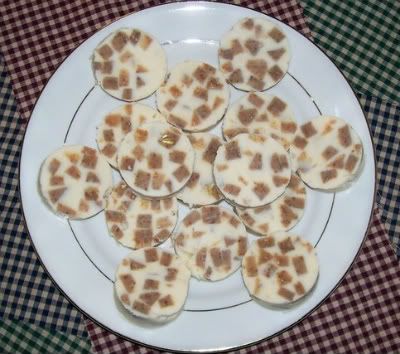 The chunks are Oatmeal & Honey Shea Butter HP soap, and the over pour is my regular CP soap with Titanium Dioxide.