Since I got snowed in, well iced in really, I'm at home bored out of my mind.
So I started playing around with some M&P soap. And I'm kinda excited about what I made. Pardon the crappy pictures. My camera just has not worked right since I took it to the beach. I promise that everything looks better in real life :) I really need to get a lightbox, and a better camera.
First up is my Sugar Scrub Cubes!
I am really excited about these, and they smell great!
I scented them with Apricot Freesia and wow, I am so loving this scent.
These were made with a combination of Goats Milk soap and Sugar.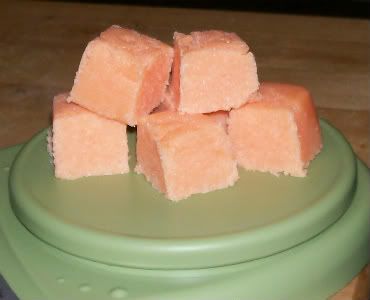 They are a new twist on an old favorite, Sugar Scrubs. No more putting your hand in a jar of a sugar slurry and having to worry about cross contaminating the scrub with shower water. Just take one cube into the bath/shower with you, squish it in your hand and lather away. It like a combination of sugar and a lotion like lather that feels great on the skin.
I will follow up with some soaps that I made.
And yes that is my awesome Olive Green Scale, so retro it is cool again :D